Read the following articles for additional tips:
BEACHES
All of Tel Aviv's beaches are accessible to the public. Our favorites are Gordon Beach and Hilton Beach. Just bring a towel and some cash to rent a lounge chair.
BOARDWALK (TAYELET)
The Tel Aviv boardwalk runs along the beach from Northern Tel Aviv to Yafo. Start your walk (or rent a bike at one of the stations along the way) in Nornern Tel Aviv near the Hilton Hotel and walk all the way to Yafo by the clocktower.
CARMEL MARKET (SHUK HA'CARMEL)
The largest open air market in Tel Aviv is known for selling fruit, vegetables, bread, specialty foods, spices, and various other home items, accessories and flowers. The Carmel Market is open every day of the week, except for Saturday.
ROTHSCHILD BOULEVARD
Rothschild Boulevard is one of Tel Aviv's most beautiful, tree lined streets. Check out the Bauhaus buildings and rent a bike and ride down the boulevard or sit at one of the outdoor cafes in the middle of the boulevard. Don't miss some of the city's best restaurants and bars: Shulchan, North Abraxas, Bindella, Pronto and Cafe Noir. Also, keep an eye out for the Norman Hotel, a very popular new boutique hotel, and its restaurant Dinings, an upscale Japanese tapas restaurant.
Rothschild intersects Sheinkin street so it's easy to visit both areas at the same time.
DIZENGOFF STREET
Dizengoff street is a popular street filled with cafes, bars, restaurants and stores. Walk around at night and sit at any of the outside cafes to enjoy a coffee and dessert. One of my personal favorites is Landwer Cafe, where you can get breakfast any time and the soft crumble cheesecake is amazing.
SHEINKIN & MONTIFIORE
Sheinkin is a pedestrian street filled with many boutiques, cafes and restaurants. It's proximity to the Carmel Market, Nachalat Binyamin, Rothschild and the beach make it a busy and popular destination. It's a great place to sit at an outdoor cafe for lunch or a coffee. There are a lot of fresh fruit juice stands on this street, but the best and most popular one is called HaYafim V'HaMitzim (7 Sheinkin Street). Order the Tutti Fruiti drink (Shunit's favorite). Stop for lunch at Hotel Montifiore (a very cute french boutique hotel and restaurant) or eat lunch at M25 in Shuk Ha'Carmel.
If you want a souvenir visit the popular store, Sabon (means 'soap' in Hebrew), on Sheinkin and buy a candle or scented oil.
NACHALAT BINYAMIN
Nachalat Binyamin is a street adjacent to the Carmel Market and near Sheinkin. On Tuesdays and Fridays the northern, cobbled part the street turns into a street fair where over 200 artists sell unique, handmade items.
You can find almost anything here, including handmade jewelry, gifts, trinkets, art and more.
NEVE TZEDECK
Neve Tzedek was the first jewish neighborhood built outside of the old port city of Jaffa. It's european architectural style (check out the Bauhaus buildings), colorful low structures and quaint narrow streets make this area popular with tourists, artists and writers.
Shabazi street is the main street in Neve Tzedek and it's lined with with unique boutiques, beautiful galleries and delicious food shops. Wonder around the smaller side streets as well and explore the cobblestoned secret gardens.
Stop for lunch or brunch at Dallal, a popular and beautiful restaurant with an adjacent bakery and cafe. Neve Tzedeck is close to Hatachana and Jaffa so you can easily visit all three areas in one afternoon.
JAFFA (YAFO)
Old Jaffa (pronounced Yafo in hebrew) is located in southern Tel Aviv and is situated on a hill overlooking the Mediterranean Sea. It serves as an ancient backdrop to the modern city. The area has numerous art studios, galleries, unique restaurants, romantic alleyways, charming gardens and many historical attractions, such as the ancient port of Jaffa. At over 4000 years old, Jaffa is one of the most ancient towns in the world and has been mentioned in both the old and new testaments.
The best way to reach Jaffa is by foot. Walk south along the beachfront promenade from Tel Aviv towards the Jaffa clock tower. Stop at the northern entrance to look back at the stunning view of the old city and the new.
One of our favorite places to stop for a traditional Israeli lunch or dinner, is The Old Man and the Sea, located in the Jaffa port.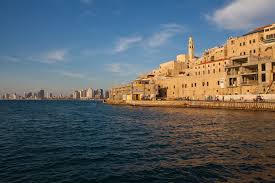 HATACHANA (OLD RAILWAY STATION)
Tel Aviv's old railway station, located between the beach and Neve Tzedek, has recently been transformed into a popular destination with cafes, shopping and trendy restaurants and bars. Check out Vicky Christina, a popular outdoor tapas restaurant, and the Secret Garden (the Bustan), one of Tel Aviv's most exclusive bars.
SARONA
The German Templer settlement of Sarona was one of the first modern agricultural settlements in Israel and served as a model for future jewish pioneers. Today, it has been revived and is a popular commercial area replete with luxury stores, an incredible market, concept restaurants, cafes and entertainment.
During the day, check out the restaurant Picnic, where you can buy lunch served in a picnic basket with a blanket and eat outside on the grass while enjoying a bottle of wine. At night, don't miss the newly opened Sarona Market. Before exploring the many food options, grab and open a bottle of wine at one of the wine and cheese shops so that you can drink while walking around. Click here for more info.
Jajo and Claro are great restaurants in Sarona as well.
TEL AVIV PORT
The Tel Aviv Port (called the Namal in Hebrew), is an outdoor promenade with many popular restaurants and bars. Check out Kitchen Market for dinner and grab a drink at one of the many outdoor bars in the area. On Friday nights, there are often special events and street performers.
BASEL SQUARE
Basel is a popular, small square in northern Tel Aviv lined with cute boutiques and cafes. Check out Lulu's Cafe and Rustico.